Paid Surveys for Teens - Surveys Can Earn Kids and Teens Extra Spending Money
My kids have always been part of focus groups and beta testers. They see me perform online surveys as well as scan products with my National Consumer Panel scanner when I make purchases.
What's it to them and me? Cash, gift cards, prizes and many ways to score!
If your kids are draining your wallet of cash, let them earn some extra money on their own by completing surveys or participating in focus groups.
Many of the sites below award points for surveys and opinions which add up to gift cards, products, cash rewards and more. These companies solicit opinions on topics such as fashion, school, toys, games, foods, video games, entertainment, and lifestyles.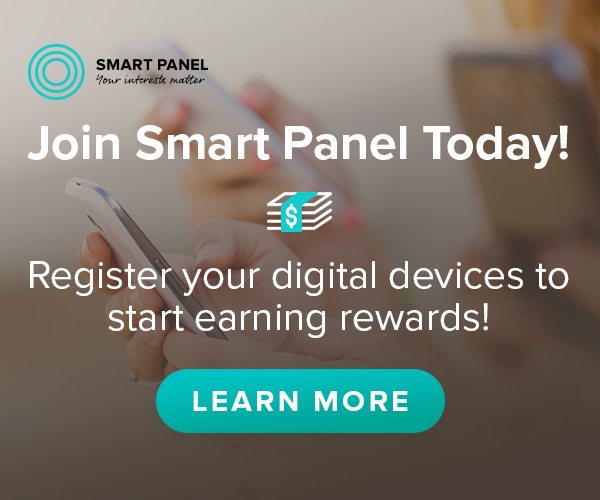 Kids can take teen surveys for money the same way as adults: A questionnaire is completed, either electronically or by mail, and participants are compensated for their participation. After, points are redeemed for money, gift cards, prizes, and  cash payments, sent in the form of a check or PayPal disbursement, depending upon the company.
Below are many paid survey sites to review, in no particular order. Parents should evaluate each company carefully before allowing children to sign up. Each company requires U.S. residency as well as specific age ranges and valid email addresses.
Click on the survey title to be forwarded to info / registration pages to join paid surveys for teens and to learn more.
Smart Panel - Teens (Ages 13-17)
Smart Panel believes that the opinion of teenagers needs to be heard. Companies are making billions of dollars every year on the products that are sold to, and for, teenagers. And we believe that these companies need to give back something to the people who have made them who they are. With Teens Panel we are giving a voice to teenagers and at the same time giving them the opportunity to be compensated for the input they provide. Participants earn money for online surveys through this group.
Click here to join Smart Panel for FREE
E-Poll (Minimum age: 13)
E-Poll Market Research Panel offers paid surveys focused on consumer attitudes towards entertainment and media.
Click Here to Join E-Poll Surveys.
Minefield Online (Mimimum age: 14)
Mindfield Online rewards their members with cash for each each survey they complete. Plus, some studies will also reward you with entries to win prizes like iPods, iPhones, Laptops, Computers, and much more.
Click Here to Join Mindfield Online.
My Survey (Minimum Age: 14)
MySurvey offers specialized panels in many different industries. The panel runs its rewards program via perks.com Click Here to Join Mysurvey.
Global Test Market (Minimum age: 14)
GMI conducts market research studies on a globally to more than 1400 companies in over 60 countries. Click Here to Join Global Test Market.
Survey Savvy (Minimum age: 14)
SurveySavvy is part of Luth Research, LLC., a market research leader since 1977. Based in San Diego, California, they have conducted countless interviews, focus groups and surveys for their clients. Their 1.5 million members span 190 countries Click Here to Join Survey savvy.
Ipsos i-Say (Minimum age: 14)
Ipsos is one of the largest survey-based market research companies in the world, annually conducting more than six million surveys worldwide. Click Here to Join Ipsos i-Say.
Valued Opinions (Minimum age: 16)
Valued Opinions is a respected market research company, whose survey topics include consumer goods, personal interests, entertainment, food, beverages, media, travel and health care. Click Here to Join Valued Opinions.
Harris Poll (Minimum age: 13)
Become a member of the Harris Poll Online and you will have the opportunity to influence important decision makers in government, corporations, and non-profit organizations.By joining, you'll be enrolled in our appreciation program, Harris Poll Online Rewards, where you can redeem points for rewards that include a variety of merchandise and gift certificates. Your responses to Harris Poll Online questions can make a difference!
My Opinion Now.com (minimum age: 13)
MyOpinionNow.com gathers consumer opinions on a variety of products, services, and topics. Membership is free, and they currently accept panel members from the US and Canada.
Toluna (Minimum age: 13)
At Toluna, participants earn points for cash, gift vouchers and other fantastic prizes, as well ast test products before they become available on the market and get answers to life's pressing questions via the Toluna community. Click Here to Join Toluna.
Daily Survey Panel (Minimum age: 13)
DailySurveyPanel is not your regular survey site. Unlike our competitors, we offer large variety of surveys for you to complete, fast payouts and super friendly and fast customer service.
Focus Forward (Minimum age: 13)
Focus Forward pays cash for surveys and they also have online focus groups.
Test Spin (Minimum age: 13)
Join now and you'll be eligible to earn up to $600 in free gift cards from Amazon.com by taking paid surveys. Register with TestSpin to test new products, music, videos, websites, and more. We want your opinion and we'll pay you for it – up to $10.00 for taking a survey and $30.00 to join a focus group. And the best part is that you never have to leave the comfort of your own computer.
My View (Minimum age: 13)
MyView survey panel members can earn rewards for taking surveys on many topics ranging from gaming, business, technology, etc. Members are rewarded with MyView Points(MVPs) for completing the surveys, and these MVPs can be redeemed for PrePaid VISA Cards and gift cards from many online retailers.
Teens Eyes (Minimum age: 13)
Survey topics at Teens Eyes revolve around products and services for teens, including television shows, music, movies, snack foods and clothing.
Kidz Eyes (Ages 6-12)
Panelists on Kidz Eyes answer questions about children's products and services like games, toys, and food. Surveys are conducted online, and kids are rewarded with points that can be redeemed for cash. Surveys usually award a few hundred points each. Reward redemption is available once 1,000 points (equivalent to $10) have been banked.
Kids Opinions (Ages 6-14)
Panelists take surveys, polls, and answer trivia questions to earn points which can be redeemed for money.
Each opportunity will display the points associated with the survey (1,000 points equals $1). The minimum balance must reach 10,000 points in order to request a payout. Opportunities are available both online and in person. New panelist opportunities are not always available, so check the site to learn current availability.
Panel Polls (Ages 6-14)
This is the cool place where young people–kids, teens and young adults–vote for their favorites, take fun surveys, polls and trivia quizzes, check-out new online games, review new TV shows, participate in forums about cool topics, blog about things they care about and earn points worth money.